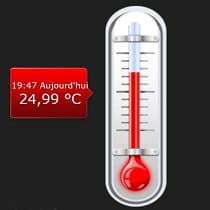 The advantages of connected heating
With connected heating, you can choose a temperature for each room. The heating will then be regulated directly in relation to this temperature.
You will gain comfort by being able, for example, to heat a bathroom more while you will keep your bedroom at a lower temperature. You will also save energy because the heating will be activated only when needed and not, like most underfloor heaters, continuously which causes you to open the windows to cool.
You will also have the option of automatically turning off the heating in your main home when you go on vacation and turning on the heating of your chalet remotely so that it is already heated when you get there.
Underfloor heating
The majority of new constructions are equipped with underfloor heating. It is very easy to automate such heating. The Z-Water control units from Heatit or HC from Danfoss allow the control of 5 to 10 solenoid valves at 24 VDC or 230 VAC. Manual valves can be easily replaced by a plumber with valves adaptable to solenoid valves.
Electric heaters
There are different thermostats with switching loads that allow you to connect electric heaters. Many radiators are already fitted with a thermostat but by connecting them you increase the possibilities by being able, for example, to adjust them remotely or according to the time of day.

Water radiators
Water heaters are also widely used in homes, especially in apartment blocks. It is generally very easy to adapt a solenoid valve to an existing radiator without even the intervention of a sanitary installer.