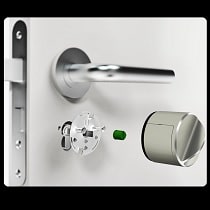 The advantages of a connected lock
Connecting your locks offers various advantages. You can easily find out if it is locked or unlocked and, if you forget, be able to lock it remotely. You can lock and unlock using a remote control or your smartphone or pair it with an intercom. For a business, it is also possible, for example, to automatically open and close locks according to room reservations.
Types of locks
There are different smart locks. The most common are electric strikes which are not, strictly speaking, connected locks but which must be connected to a relay of an intercom, for example. Electric strikes have the advantage of being permanently supplied, which eliminates the risk of battery failure. However, they are often relatively expensive to set up and require the intervention of an electrician and sometimes a locksmith.  
There are also various battery operated wireless electronic locks. They have the advantage of being relatively simple to install and less expensive, but require regular battery replacement.