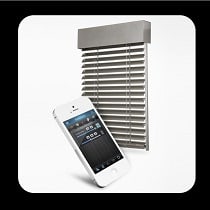 Many new apartments or houses are equipped with electric blinds and when used efficiently they can help to save energy in the home. For this it is necessary to have a good management of the blinds and heating system.
By connecting the blinds to a home automation system, you will have the possibility in summer to automatically close the slats of a Venetian blind, for example, to keep the house cool when it is too hot outside, and to reopen them at night to cool the home. This can, therefore, help avoid the use of air conditioning units.
Likewise, in winter you can automatically open the blinds of your bay windows when it is sunny to take advantage of its heat as well as automatically close the blinds when night falls to save as much heat as possible. This system can help reduce heating consumption.
This also gives you security for garden blinds. When you forget to wind it up and the wind picks up, the awning will go up automatically so as not to risk damage
You can, in the same way, control your gates, garage doors, or other access systems. By coupling this with a camera with a license plate recognition system you can, for example, open the door automatically when your car is detected.